Fish Ladder Viewing Room to be Renovated
Click Corps Logo For Official
Seattle District News Releases

Recent study outlines the $1.2 Billion impact of the Ballard Locks to the Seattle area economy.
(Click image for downloadable report)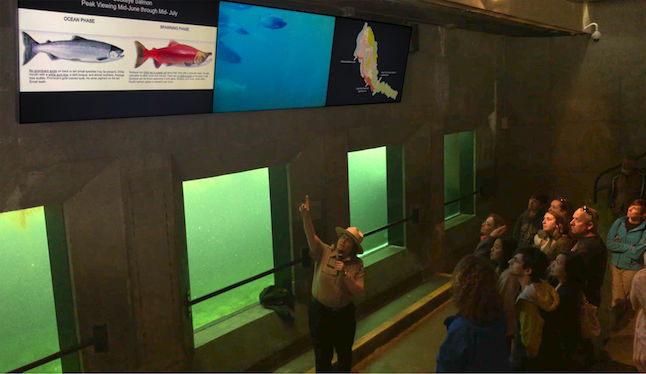 The Fish Ladder Viewing Room will be closed until early Spring 2020 to complete renovations including auditorium style seating, better lighting and ventilation, acoustics and new exhibits.
Watch Facebook posts to see progress
The very popular 15 ft. wide video display wall that was previewed this summer has been removed during construction to develop a new program, based on viewer input and will be premiered in the spring.
Check YouTube for video of wall.
VIP INSIDE CHAMBER TOURS AVAILABLE IN MARCH 2020
In the past we have offered donation based "Inside the Locks" VIP TOURS in November. Our maintenance schedule has been too busy to accomodate these very popular tours. We now plan to offer these special tours at 10:30am on Wednesdays in March. If you are interested, click on photo to learn more and reserve a spot on a tour
We have raised over $1M, but still need public help to complete the renovations. Add your name to the Salmon Legacy Wall.
(Click fish icon to learn more)